Life with IBD
Life with IBD
Find out more about the impact of IBD and tips for managing your condition below.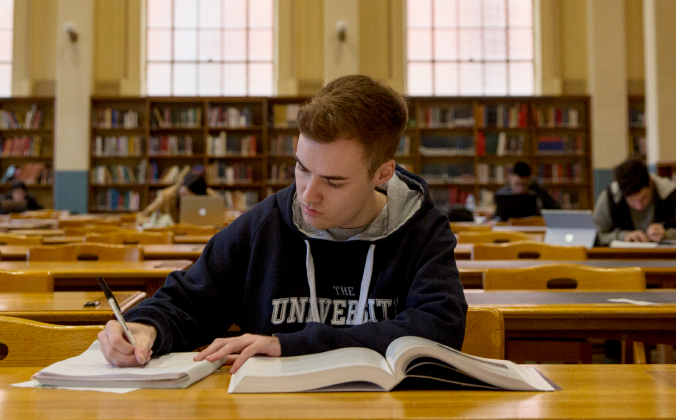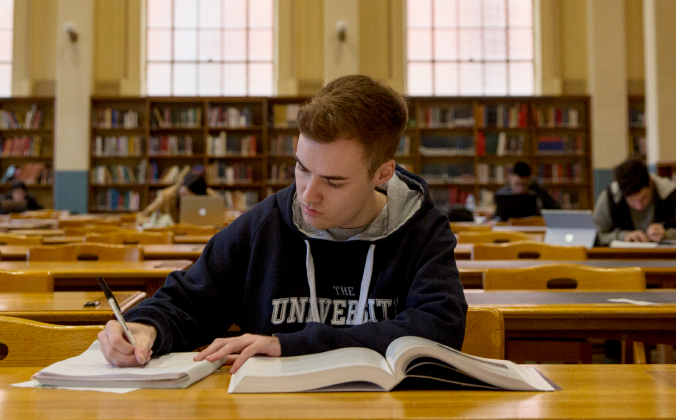 Managing IBD while you work or study
We all know our home environment brings us comfort and relief, making managing inflammatory bowel disease (IBD) a little easier. But how do you manage this at work?
We spend about a third of our day (or even more) at work, so it makes sense that our 9-to-5 day should be made as pleasant and productive as possible.
Below are a few things you can do to make things even easier:
Consider discussing your condition with workmates

It is understandably hard to discuss something as personal as IBD but telling your workmates may take some weight off your shoulders and help them be sensitive toward your health and your needs. It is highly encouraged to let your boss know about your condition, especially if it means you might need more time off or flexible working conditions (such as working remotely during periods of poor health).

Keep an emergency kit at work

In the event of a sudden onset of symptoms, you will feel far more at ease if you're prepared. Keep a stash of the important things such as medication, a clean change of clothes and underwear, antacids and disposable wipes somewhere in your workplace.

Don't fear meetings

If you need to excuse yourself from a meeting it is perfectly reasonable to do so. Even people without IBD need bathroom breaks! If you feel the need to visit the toilet, it is fine to just say that you are unwell.

Manage your diet

Your diet is fundamental to managing your symptoms so make sure you eat healthily. Prepare tummy-friendly lunches and snacks, ensuring you make time to eat mindfully.

Use space to your advantage

Location matters. Try and ask for a desk close to the bathrooms. Explain the reason for your request to your supervisor and they'll likely be accommodating to your needs.
Do you travel for work or pleasure often? With transit times, strange climates, jetlag and cramped seats, it isn't surprising that you might feel terrible when you reach your destination.
If you have a digestive health condition, travelling can be even harder – strange food, disrupted sleep and added stress can affect your immune system and trigger uncomfortable symptoms.
By taking a few precautions, and being mindful of your condition, travel can still be enjoyable.
Pack wisely
It seems obvious but having the things you need readily available in your luggage can put your mind at ease when you feel out of your comfort zone. Make sure you pack additional sets of essentials, such as clean underwear, medication, pain killers and prescriptions in your hand luggage – you don't want to be caught out if your checked bags are lost or delayed.
Eat wisely
Exotic foods in exotic countries can make any tummy grumble! When your body is already disrupted by travelling, time differences and long hours, the least you can do is nourish it well and steer clear of unkind foods. Try packing your own food to take with you on the plane, on the train or in the car. If your trip takes you overseas, it is worth doing a bit of online research about the local food and restaurant options. If you are caught out, check with your hotel or a friendly local about where to eat if you have a sensitive stomach.
Sleep well
Adequate rest is vital and pushing yourself beyond the limits, especially if your health is already compromised due to stress or jetlag will make you run down and more susceptible to flare ups.
Do your research
Having a life-long health condition is neither your fault, nor is it anything to be embarrassed about. If you have concerns, speak to your travel consultant, hotel, restaurant or tour guide. If you're visiting an exotic country, it's advisable to be cautious of street vendors, which may not be held to the same hygiene standards as you are used to.
Mental Health – Mind your mood

Living with a long-term disease like inflammatory bowel disease can be stressful and have a big effect on your mood. We all have our good days and bad days, but when you live with IBD, some days can be worse than others.
Research shows a significant association between symptoms of depression and/or anxiety and clinical recurrence of IBD.1 This is because the brain and gut are in constant conversation through a network of neural, hormonal and immunological messages and if you are living with Inflammatory Bowel Disease (IBD), these lines of communication are disturbed.
A national survey by Crohn's and Colitis Australia showed while half of respondents were displaying signs of mental distress, only 16% had ever been directly asked about their mental health by their treating clinician.2
1. Mikocka-Walus, A. et al. Clinical Gastroenterology and Heptaology, Volume 14, Issue 6, 829-835.e1
2. Crohn's and Colitis Australia. My IBD Experience – Research Report 2018
It's important to identify what causes you stress and importantly, what you can do to stay in the right headspace.
Know your mood
Managing stress starts with identifying the stressors in your life. It is a good idea to start a journal to record events and places that may have made you feel stressed. This can help you avoid similar situations in the future or develop coping mechanisms. Your stress journal could look something like the below, with a list of the things that caused you stress today. How did you react to the event? What did you do in response to the stressful event?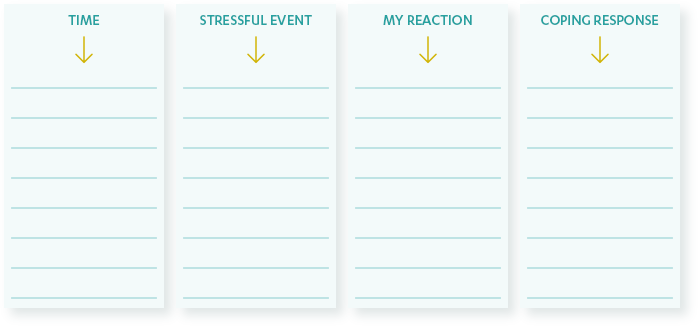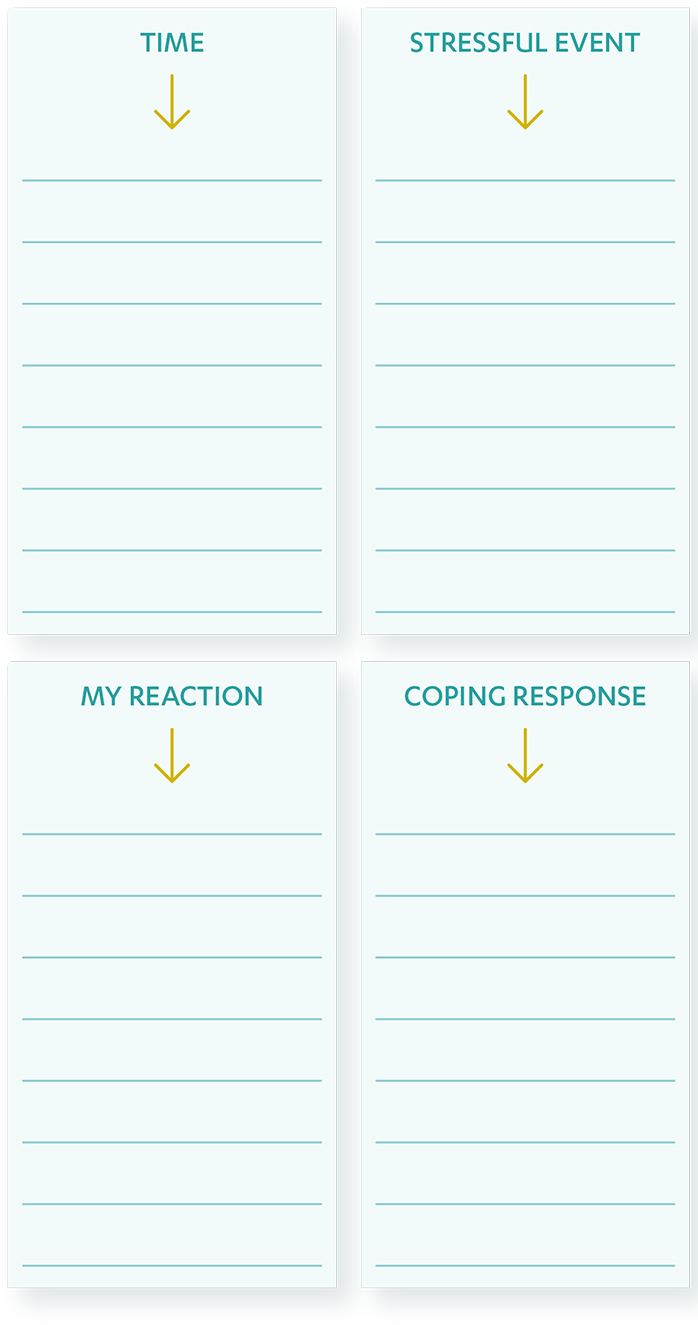 What can I do about my thoughts and emotions?
Sometimes, when we accept things as they are, it can make it a bit easier. This might sound a bit rough when we have a disease we really don't want, but accepting our unpleasant thoughts and feelings may make us feel better - the more we struggle with them, the more trouble they can be in the long-term.
It is similar with our emotions. Sometimes just being able to name the emotion you are experiencing can be helpful. For example, "I am feeling angry that I have had another flare up".
We don't need to spend unnecessary time and energy pushing the emotion away. Acceptance is simply saying "This emotion is not bad, it is only annoying".
Accepting unpleasant thoughts or feelings doesn't mean you have to like them. It is about allowing them to be there and focusing on getting better.
Lifting your mood
When your mood is low or you feel anxious, it is common to stop doing the things you love. Which really is the opposite of what you should do.
What do you normally do when you're feeling great? Do you catch up with friends? Play a game with your kids? Do some gardening? This might give you a few clues about what might lift your mood.
Have a go at choosing a few activities from the list below. Try them out this weekend. Take note of how you feel afterwards. Did your mood improve:
Watch a funny TV show
Engage in one of your hobbies
Call a friend who really understands your struggles
Reach out to a support group
Ask your children if you can play a game with them
Invite a friend over for a cup of tea or to watch a movie
Read that book you've been meaning to read
Listen to your favourite music
Go for a short walk around your suburb
Take the family for a trip to the bush or the beach
Plant a tree
Remember that everyone is different and relaxes in different ways. Changing your behaviour can change the way you feel. Have a think about the things YOU enjoy doing and give it a go.
Have a conversation and find support
It can be overwhelming and a bit stressful to start the conversation with your healthcare professional about how you're feeling – but it is important to know you are not a burden when you want to talk about how you are feeling. It is normal to feel a bit down or anxious about your IBD and your healthcare professional can provide a safe space for you to share how you are feeling and provide support when you need it. There are a number of places you can visit for support, advice or just a friendly ear, including:
For 24/7 counselling or crisis support, please contact Lifeline on 13 11 14 or the Beyond Blue Support Service on 1300 22 46 36.
Personal Relationships – Your IBD Support Network

Although inflammatory bowel disease (IBD) is a very personal issue, your family, friends and colleagues are there to support you. Discussing your illness can be daunting, but it is a necessary for all IBD sufferers to build up a strong support-network.
A 'need to know' basis
There's no need to post on social media that you have an IBD (unless you want to!). But it is a good idea to tell those closest to you, so you can lift some weight off your shoulders. A good yardstick for who to tell would be to ask yourself the question: 'Is it going to make my life, or theirs, easier if I tell them that I have IBD?'
Set your personal boundaries
When you tell someone about your IBD, be sure to discuss the privacy of your condition. Are you okay with them talking to others about your condition, or would you prefer to decide that for yourself? IBD is common and nothing to be ashamed of but you have a right to keep your health personal.
A sense of humour goes a long way
Being able to laugh at the situation can make discussing your IBD a little easier. Humour is a very useful tactic to cut through awkwardness and misinformation. Being able to joke about it can help alleviate some of the emotional tension you may experience and besides, everyone loves a fart joke.
Join a community
Sharing experiences with others and seeking advice from those who've gone through similar situations can help you feel supported and reduce feelings of isolation and stress. There are large IBD communities both online and offline, comprised of people and their families sharing stories and seeking support from each other.
IBD and sex
With long working hours, demanding kids, and new TV series to watch, maintaining a healthy sex life is challenging for anyone. When you have inflammatory bowel disease, things can become even trickier. As with many elements of your lifestyle, some accommodations for your health may need to be made, but ultimately you can have IBD and still maintain a happy sex life.
Let's get physical
In terms of physical barriers to great sex, IBD symptoms can put you in a difficult position – excuse the pun! During flare ups you may be too unwell to feel aroused, let alone go through the physical motions of the deed itself.
Sometimes you'll need to fit your sex life around your symptoms and communicating honestly with your partner will help you navigate these periods together.
Other physical barriers can include fistulas and abscesses in the anus and/or vagina that can cause pain during sex. If you've had surgery, it may take a while to readjust to your sex life. Take it slow, and if there's any pain or discomfort, you should stop and seek advice from your doctor.
Impotence is another physical concern for people living with IBD. While uncommon, some medications used to treat IBD can occasionally lead to impaired sexual function. If you have concerns, speak to your doctor about any possible risks and side effects associated with treatment.
Sex is emotional
Sex isn't just a physical act, it is also a very emotional one. Anxiety, fear and stress about getting intimate are common when you have IBD. You're only human, so it can be natural to sometimes feel a little embarrassed about your condition.
Education and communication are your best weapons against IBD-induced bedroom anxiety. Educate your partner and about your condition and the effects it can have on you physically (and emotionally) when it comes to being intimate.
Sex is natural, it is fun and, although the media may tell a different story, it is common for people to have a variety of bedroom hang-ups and the odd embarrassing or hilarious experience.
Preparing to welcome a baby into your life brings its own set of challenges in terms of health and lifestyle changes. Every woman is different, and so is every pregnancy. You can be assured of a unique, but ultimately rewarding experience.
When you have a life-long illness such as inflammatory bowel disease (IBD), effective management of your condition becomes even more important to ensure the health of both mother and child.
IBD and fertility
If you're planning to start or add to your family, you should seek advice from your doctor as early as you can – pre-conception, if possible. That way, you can take every opportunity to get healthy prior to commencing the emotional and physical changes that are part of the journey of pregnancy.
Having your IBD under control prior to falling pregnant would be the ideal situation. During times of remission, you will be in a better state to begin your journey to parenthood, letting you spend more time cooing over tiny booties and less time trying to cope with IBD-related pain and discomfort.
Gastrointestinal (GI) surgery for IBD and certain medications may affect your ability to conceive – check with your doctor if you're concerned about this. If you've recently had surgery, you'll need to rest and recuperate before trying for a baby. It is important that your body recovers fully before coping with the demands of a growing bump.
During pregnancy
If your IBD symptoms are active when you fall pregnant, chances are mood swings and indigestion will just make you feel worse. Keep in mind that stress is a big no-no for IBD sufferers – it often triggers or worsens symptoms so try to slow down a bit and take it easy.
It is very important to maintain remission of your condition, before and during pregnancy, and this may mean you need to adhere to your medications.
It's vital that you talk to your doctor when considering pregnancy. They are there to help and deal with cases like yours daily. Discussing all your options with your obstetrician and your regular physician or IBD specialist early in your pregnancy can help them develop a treatment plan to manage your IBD that is suitable for you, your baby and your lifestyle.

Whilst inflammatory bowel disease (IBD) is most commonly diagnosed in people between the ages of 15–35,1 children younger than five years of age can also be affected. An IBD diagnosis might be tough for parents and children to face, but it is not the end of the world. Your child can live with their condition and still enjoy the highs (and occasional lows) that are part and parcel of childhood.
Diagnosing IBD in kids
Most kids will experience a sore tummy from time to time. If they complain of chronic pain, discomfort, diarrhoea or you notice changes in their eating and/or toileting habits, it is best to consult your family doctor. If your doctor suspects IBD or another gastrointestinal condition, a symptom history and further testing are the first steps towards reaching a diagnosis.
Treatment and management
Following an IBD diagnosis, your doctor will recommend a treatment plan to help manage your child's condition. This may involve medication, dietary changes, and in severe cases, surgery. Every case of IBD is unique and developing a treatment regimen with your doctor may take some adjustment. It is important to be patient with the process – it might take some time and changes before you discover what works best for your child, your family and your lifestyle. As IBD cases are life-long, they require ongoing management of symptoms. Maintaining a good relationship with a family doctor you can trust can provide an extra level of care and support.
School
School can be a tough time for kids, especially if they are dealing with a life-long condition like inflammatory bowel disease (IBD). If your child agrees, it may help to have a parent, school nurse or a teacher explain the basics of IBD to their schoolmates. It is important that these explanations emphasise that IBD is not contagious and does not limit their ability to play, have fun or participate at school. It is vital that you advise the school and teachers about your child's condition, just as you would with any other health conditions they may have.
Social anxiety
For kids with IBD, the prospect of 'having an accident' can cause severe social anxiety. Putting together an emergency kit of items like wet wipes, spare clean underwear or clothes, medication and other necessities can help your child feel ready to deal with stressful situations should they arise.
There is always support
Managing your child's condition can make some parents feel very isolated. There are support groups who understand your situation and can provide support. For more information, ask your doctor or get in touch with your local or national IBD advocacy and awareness group (for example Crohn's and Colitis Australia and Crohn's and Colitis New Zealand).
You are about to leave Gastro Central website. The information you are being referred to may not comply with the Australian and New Zealand regulatory requirements. Further information relevant to the Australian and New Zealand environment is available on request from Janssen.